Product Description
Amazing GOOP RV is the only adhesive and sealant needed for inside and outside RV use because it repairs, seals and sticks to a wide variety of materials with superior strength.
Weatherproof and UV resistant, Amazing GOOP RV can be used as an adhesive and as a sealant. It's ideal for stopping leaks in windows, shower drains and vents.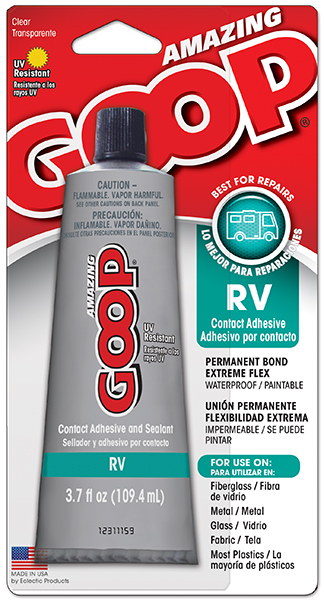 It creates a flexible hold that will not crack or break under stress such as road vibrations. Repairs tears in rubber roofs, awnings, vinyl floors and permanently adheres moldings and reflectors.
UV resistant Contact adhesive and sealant
Clear, waterproof and paintable
Bonds to metal, tile, plastic, porcelain, rubber, glass, fabric and wood
Creates a flexible hold that won't crack or become brittle under stress or vibration
Made in the USA
Contact adhesive and sealant
Flexible hold
Paintable once cured
Water Proof, Dries Clear
3.7 Ounce
Buy Now