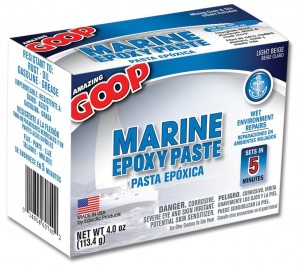 Non-sag, two-part epoxy filler formulated to offer exceptional high impact resistance and bond to most substrates
Resists water, chemicals, fuel, alcohol, grease
Use above and below the waterline and remains waterproof after curing
Sets in 5 minutes and dries completely in 20 minutes
2 part epoxy paste
Great for vertical applications
Resists water chemicals fuel alcohol grease
Sets in 5 minutes
Amazing GOOP Marine Epoxy Paste is formulated to easily fill holes, gouges, cracks, splits, fractures, rust-outs, dry rot and fiberglass gel coat blisters. It bonds permanently to fiberglass, wood, steel, aluminum, most plastics as well as many other substrates.
Marine Epoxy Paste forms a weatherproof bond and offers high impact resistance with no sag. Once cured, it can be sanded, ground, drilled, tapped, sawed, will accept self tapping screws and painted with most paints.
Available in 4oz KIT
Buy Now