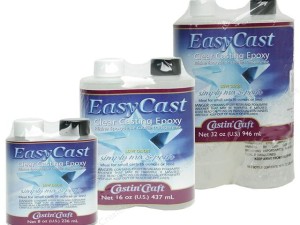 EasyCast Clear Casting Epoxy: is a two component, low odor, solvent free, clear casting epoxy.
It's ideal for casting small decorative items such as kitchen and bathroom knobs.
Color EasyCast with Castin'Craft opaque pigments for solid colors, transparent dyes for that colored glass look or granite powders for the look of stone.
Mix and pour EasyCast into any of the Castin'Craft knob and pull molds to create your own decorative knob and pulls.

EasyCast Clear Casting Epoxy is available in:
8oz, 16oz, 32oz and 1 Gallon Kits
Buy Now