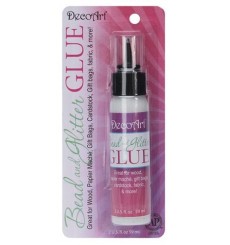 Bead and Glitter Glue is a versatile new adhesive that allows you to apply beads and glitter exactly where you want them. Just squeeze glue from the fine tip onto the surface to personalize, dot, or fill an area.
Sprinkle loose beads or glitter over the wet glue, tap off excess, and allow to dry. Bead and Glitter Glue can be used on most craft surfaces including fabric. Create one-of-a-kind purses, hats, shirts, ornaments, and more.
Painting Surfaces: Wood, Papier mache, Paper, Ornaments, Ceramic bisque, Canvas, MDF, Foam core, Most fabrics, Canvas shoes, Fabric purses and totes
Features and Advantages:
More application control with bottle tip.
Flexible when dry for use on fabric.
Ideal for beginners to advanced crafters.
Buy Now